ADVAM is committed to best practice in every aspect of what we do.
The ADVAM Gateway and our processes are PCI DSS Level 1 compliant, the industry's highest level of certification. Our processes are reviewed annually via an intensive onsite audit that ensures the highest compliance levels are maintained and adhered to.
Our terminals are EMV certified and with detailed industry expertise we are best placed to guide you through the EMV journey.
All of our solutions are supported by our dual data centre with automatic failover infrastructure, making sure your service is always available.
Accredited, quality processes
The quality of our management processes is also certified to ISO 9001.
Our accreditations satisfy all applicable card scheme programs, regional multilateral agreements, central bank and financial sector legislation, as well as all other relevant industry-specific standards.
It's a level of security and compliance that means our clients can be confident that their data is secure and will remain confidential.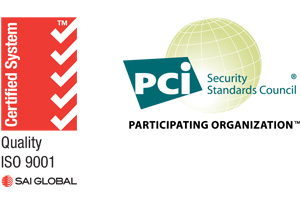 Privacy Policy and Data Security
ADVAM complies to the most stringent Data Privacy Guidelines, applicable to the regions that we operate our business, our clients and their consumers reside.
The ADVAM Privacy Policy and Data Security Pages provide the latest information of what you need to know.