ADVAM ramps up its security processes with the validation of its P2PE solution
Posted 6 June 2019, Australia
As a leading provider of payment solutions to the parking, airport, shopping centre and self-service markets ADVAM maintains the highest level of payment and data privacy regulations. All of ADVAM's global policies comply to GDPR, for a long time ADVAM has delivered EMV certified transaction processing to its clients and the ADVAM Gateway is tested and certified to PCI Level 1. ADVAM is now pleased to announce the latest weapon in its security armoury with the PCI Listing of its validated P2PE solution.
Point to Point Encryption (P2PE), the PCI certified terminal encryption standard, goes far beyond the payment terminal or software used to process payments to include the security of the payment terminals, the applications and systems used to process payments. The key steps for a P2PE validated solution can be seen below.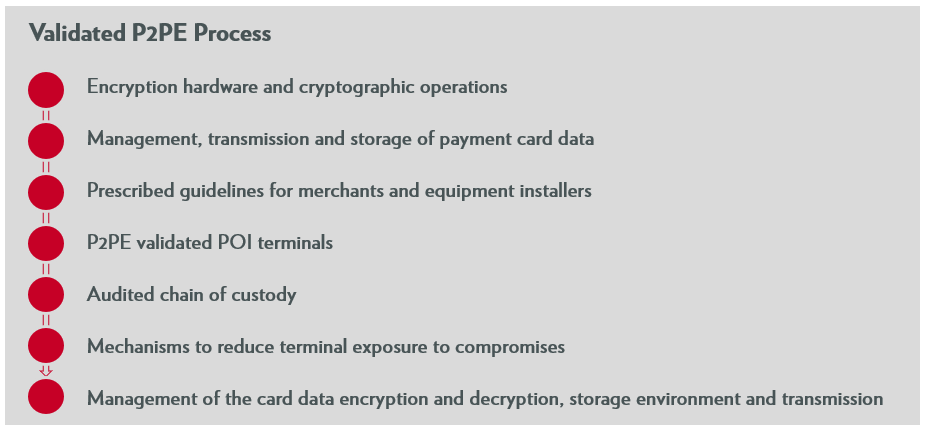 ADVAM clients that want to adopt the new P2PE validated solution will benefit from a significant reduction in the PCI DSS burden, with the control being pushed to the solution provider and the merchant compliance burden reduced by up to 90%. However, before merchants embark on their P2PE journey they do need to be aware of their responsibilities as a merchant and those of their solution provider.
Dan Billsdon, ADVAM's CTO comments, "With this new validation of the ADVAM P2PE solution, we're thrilled to be able to assist in reducing the PCI DSS burden for our clients. However, merchants and solution providers alike need to be aware of their responsibilities and be in a position to change their processes accordingly. ADVAM is fully prepared to be able to work with our clients and partners to guide them through this process".
This addition to the ADVAM UnattendedPayments solution enables ADVAM to continue to provide leading payment solutions across the globe and gives its clients peace of mind when managing their own PCI audit.