ADVAM celebrates success at Intertraffic
Posted 8 April 2016, UK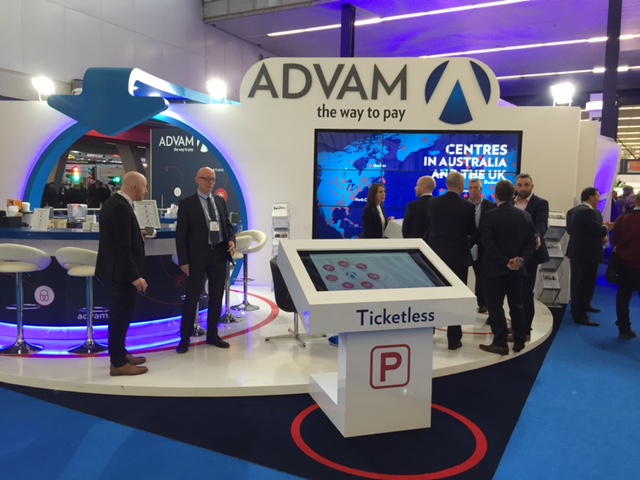 April 2016: An exciting and intensely busy four days at Intertraffic, Amsterdam, have been contrasted this week, by a period of reflection and pride after ADVAM's first time exhibiting at this renowned event.
Although, in previous years the company has always understood the importance of Intertraffic and consistently attended, it was felt this year, that the company had so many messages it wished to communicate , that 2016 was finally the year to showcase the company's unique set of values and products.
The company chose the stage of Intertraffic Amsterdam, to launch its new branding, which concludes the full integration of the renowned UK technology company, Inventive IT into the ADVAM brand. ADVAM was also able to demonstrate its full end to end suite of products at the exhibition for the first time.
AltitudeReservation – the world-leading parking and service reservation solution
ParkCharge – ticket free, account-based parking for your customers
UnattendedPayments – the complete and trusted unattended payment solution
StaffPark – ticket free, employee and contract account-based parking
GroundTransport – the automated toll solution for transport access providers

Close to 800 companies from 47 countries exhibited at Intertraffic Amsterdam, and a new record of 30,104 visitors from 134 countries worldwide were in attendance. To learn just how many people were at this event, begins to explain the consistently exciting atmosphere which resonated throughout each of the busy halls, during every one of ADVAM's hectic four days exhibiting.

ADVAM is in no doubt that this event was the correct place to launch its latest series of firsts, and looks forward to returning the stand to Intertraffic in two years' time, which will undoubtedly arrive far more quickly that we all expect! ADVAM is already looking forward to catching up with you again at Intertraffic 2018!

About ADVAM

ADVAM is a leading global provider of payment solutions, providing a full suite of parking, reservation and ecommerce payment solutions. Managed on its own proprietary payment gateway, ADVAM solutions are PCI Level 1 and EMV compliant, removing the burden of legislative risk from customers. In addition, ADVAM's transaction network handles dedicated links with acquirer banks in over 20 countries, offering the power of multicurrency acquiring and instant access to global markets.

ADVAM's expertise enables custom integrations with merchants existing systems and processes. As such, ADVAM has a wide range of client solutions including Gatwick Airport, Dublin Airport, Sydney Airport, Swedavia, Wilson Parking, Etihad Stadium, Munich Airport, Copenhagen Airport, Westfield, NCP and many more.