How to bridge the gap and digitalise your car park?
Posted 25 July 2018, Australia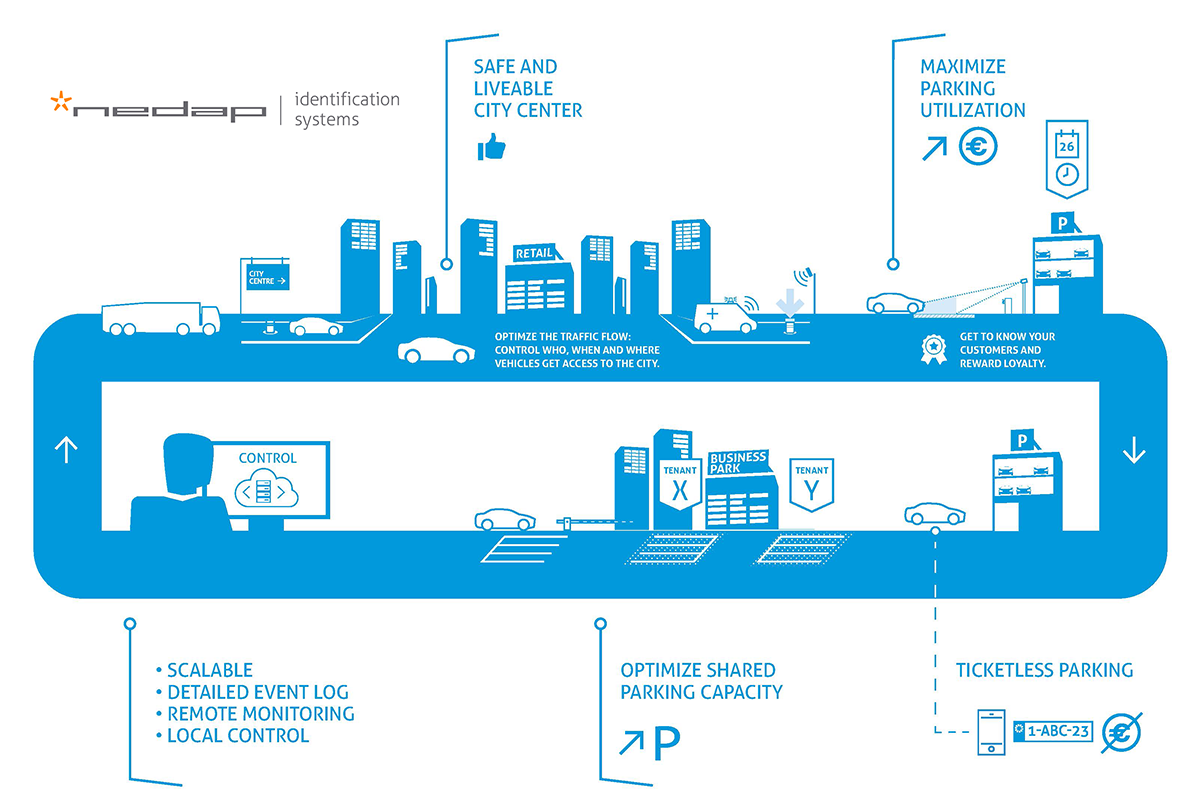 The parking market is rapidly changing now more than ever. Online software based solutions provide flexibility and pre-booking of parking. Paying in cash for parking transactions is no longer required. The development of new technologies and software applications allows innovative solutions to enhance the customer experience and to allow owners of parking facilities to make more revenue on parking when capacity is available. In case of high demand for parking spaces in the city, alternative parking capacity could be utilized. Office parking for example, which is not used during weekends and located in the central business district. But how do you control the access of these pre-booked vehicles to the car park? And how do you add non-public parking spaces to a pre-booking system, without a high investment in car park control? How do you bridge this gap and what technology is available to manage this?

Parking capacity in cities is no longer restricted to on and off street parking. By means of online booking platforms, private owners could also rent out their parking facility capacity. An organization owning a car park in the city for example, could rent out parking spaces during the weekends when it is not utilized by employees.

We have defined the following 3 challenges for current car park operators:

1) How to optimize the fill rate?
One of the biggest challenges for car park operators is to manage the demand and supply. In peak times, the parking demand is high and availability is limited. In off-peak hours, they would like to optimize the fill rate of their car park. Digital pre-booking platforms offer the parking operators more insight in parking duration and allow for optimized use of the parking capacity. Active promotion of pre-booking is therefore preferred and already applied by airport parking operators, who aim for a high percentage of pre-booked users. Airports know exactly when their customer will arrive and when they are about to leave, so when the parking bay will become available again. This makes managing the parking capacity a lot more efficient.
Several solutions to optimize this fill rate are available. The first is to use long-range identification technology. This offers customers the possibility to reserve and pre-pay their parking space before their arrival. Long-range identification can be realized using either Bluetooth, license plate recognition or RFID technology. When a pre-registered vehicle approaches the entrance of a parking facility, access is granted automatically based on the identification device registered upon booking. For one off users, license plate recognition offers the ideal solution. Pre-booked users can register their license plate details and upon entry, if the correct vehicle is driven, access will be granted automatically. This solution offers enhanced benefits over other users:
No need for cash
No need to stop, just drive through
No need to visit the pay station
The second solution is to optimize the parking utilization level. Smart parking sensors in individual parking bays can detect if the bay is occupied for indoor and outdoor environments. With the real-time parking occupancy data that becomes available thanks to this solution, motorists can be guided to the nearest available parking bay. Easily finding a parking space improves the customer experience, plus it reduces traffic congestion during peak hours.

2) How to get to know the customers?
Once customers can reserve and pre-pay their parking space online, the transaction is no longer an anonymous detection of vehicle or driver. Parking operators can actually get to know their customers, analyze customer behavior and create customer loyalty and retention. Loyalty schemes can be introduced to provide frequent customers with added benefits, such as easy handsfree access and payment on account to create a good customer experience. Incentives can be provided to ensures customers return.

Access control for the loyalty customer can be realized using RFID technology. This solution ensures the customer will experience very reliable, convenient handsfree access into the car park. RFID devices (either a tag or a card) identify the driver, which means it can also be transferred between cars. RFID also offers reliable vehicle access control for staff or ground transport vehicles, who frequently use the same facility.

Alternatively, mobile access control is available to granting access by means of a virtual credential. The advantage of mobile access control is that these credentials are linked to a person and will therefore identify the driver instead of the vehicle. The use of smartphones as access devices also enables future possibilities to communicate directly with loyalty customers and to offer discount on future parking reservations. It offers a flexible platform on which vehicle access can be offered using functionalities already incorporated on smartphones. Functionalities such as an extra pin code entry or fingerprint as two-factor-authentication can be used to ensure that the correct user is identified and therefore charged for the parking transaction.

3) How to manage your parking easily?
There is a gap between the management of these online platforms, allowing to pre-book parking capacity and the actual control and management of access for customers in the car park itself.

In car parks where the entire payment handling can be realized digitally, limited hardware will be required to control the access and register each transaction. Online cloud based vehicle access control solutions enable the control of all the hardware in the car park and these solutions can in addition communicate with the online payment systems. This allows flexible control of access for pre-booked users to nonpublic car parks without high investments or having to manage ground transport operations registrations. In addition, it allows easy management of shared parking capacity for multi-tenant applications, where each tenant can manage their own parking capacity.

About Nedap Identification Systems
Nedap Identification Systems is the leading specialist in systems for long-range identification, wireless vehicle detection and vehicle access control. Our readers, sensors and controllers optimize, monitor and control the movement of vehicles and people. Safe, secure and efficient. Technology that can easily be applied to security, traffic and parking applications. Cities, airports, on and off street parking and commercial estates all are expected to be smart about mobility. Nedap's Identification Systems and Mobility Solutions enable citizens to keep moving around in a secure and convenient fashion.