BriVend and ADVAM help go2zone to reduce waste caused by disposable water bottles
Posted 13 September 2017, Australia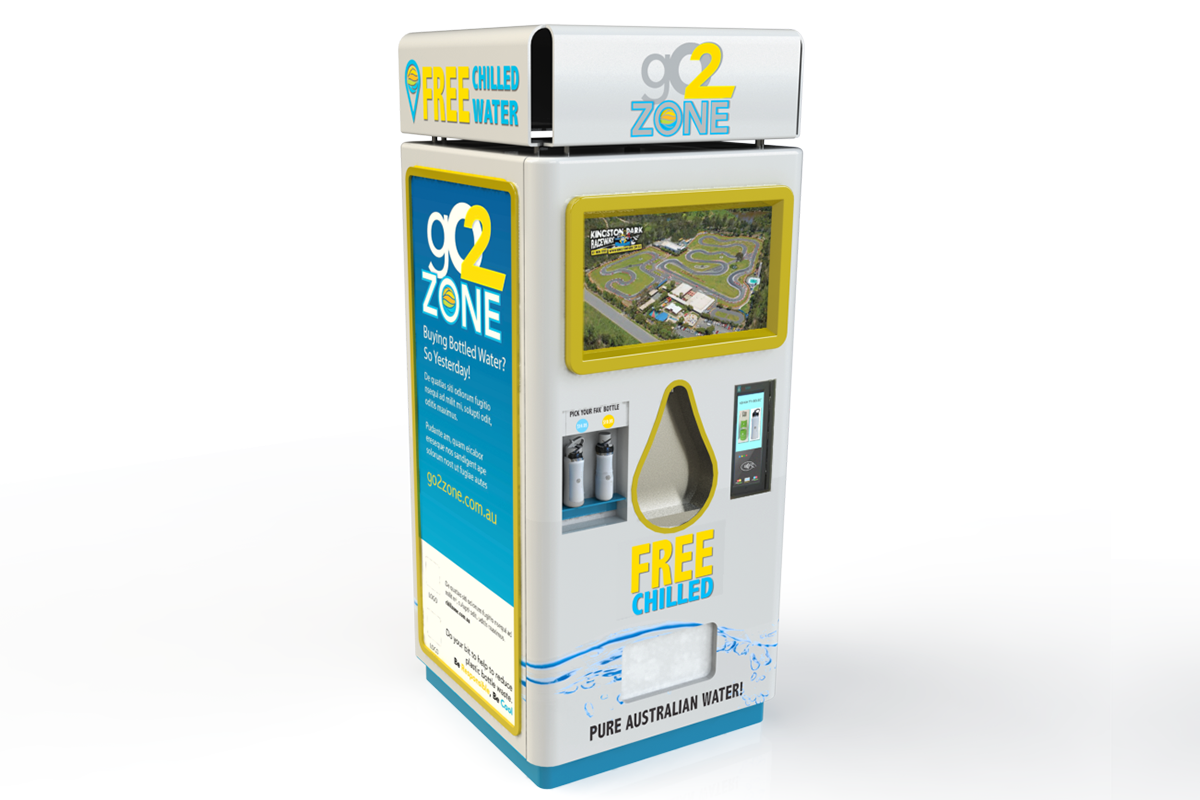 ADVAM is pleased to announce that it is working with BriVend, one of Australia's leading suppliers to the Vending industry, to provide cashless payments for go2zone initiative.
In a bid to reduce the environmental impact caused by discarded plastic and, in particular water bottles, go2zone is launching water refill stations across south-east Queensland. These new stations not only enable people to refill their existing water bottles, but the refill go2zone stations also allow customers to buy an environmentally friendly refillable glass or stainless steel water bottle.
The refill station lets people that are out and about to easily refill their existing bottle, or instead of buying yet another throwaway plastic bottle, they can purchase and fill a new environmentally friendly reusable bottle. The refill of the water is free, but there is a small charge for people that want to purchase the reusable bottles.
BriVend supplies the refill stations to go2zone and throughout the three-year project, have acted as the end-to-end Vending consultant, providing manufacturing, warehousing, distribution, technical and advisory support.
With BriVend's extensive experience in the Vending industry, the only option was to select a cashless solution for the payment component.
John Mann from BriVend explains, "BriVend has over 35 years' experience in the vending industry, so we understand what works for both our vending clients and their consumers. During this time, we have seen a constant decline in the use of cash as consumers prefer the convenience of paying with card. In addition, the risk of vandalism and theft is dramatically reduced once the cash element is removed from the machines".
BriVend selected ADVAM due to its expertise within the vending and self-service industry, providing secure cashless payment solutions that are compliant to PCI DSS Level 1, EMV certified and tested to meet the harsh Australian weather conditions.
John Mann, BriVend continues, "We wanted to work with a cashless payment solutions provider that could not only provide a secure, reliable service, but had experience within the industry. ADVAM was the natural choice due to their expertise and the level of service and support that they provide".
The new refill stations are due to roll out from September 2017.
About BriVend
Established in Brisbane in 1980, BriVend is a second generation family company dedicated to the vending needs of customers large and small, Australia-wide. BriVend is able to deliver a complete innovative vending solution of cold drinks, snack & food merchandisers and versatile combination models. Based in Brisbane, BriVend provides vending machines Sydney, vending machines Melbourne and national support through interstate sales offices and distributors.
About go2zone
Based in Brisbane, go2zone is brought to you by Healthy Land and Water, a not-for-profit organisation dedicated to the care of our unique and beautiful land, waterways and biodiversity. go2zone is an environmentally friendly initiative designed by Waterways Plus to provide a genuine alternative to single-use plastic water bottles.